The 2022 Subaru Love Promise Community Commitment Award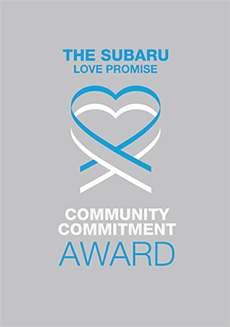 We've been nationally recognized for our dedication to our community and the Subaru Love Promise.
We're honored to receive the 2022 Subaru Love Promise Community Commitment Award. This award nationally recognizes Subaru retailers who are making the world a better place while demonstrating an outstanding commitment to supporting passions and causes in local communities. These efforts are focused in important areas such as the environment, community, health, education, and pets.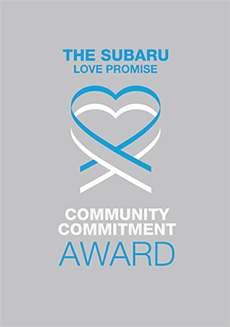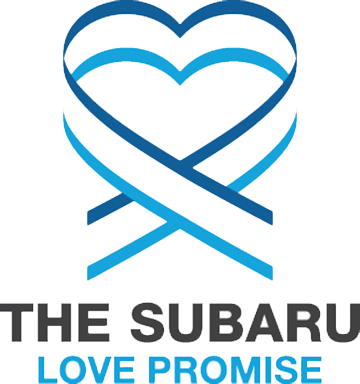 What is the Subaru Love Promise?
Subaru and our retailers believe in making the world a better place and the Subaru Love Promise is our vision of respecting all people. This is our commitment to show love and respect to our customers and to work to make a positive impact in the world.
How is Ramsey Subaru of Des Moines dedicated locally to the Love Promise?
20 plus years of working in the Des Moines metro area and a promise to up hold the amazing Subaru brand as well as our Ramsey Subaru name.
Carson King Foundation , Des Moines Ballet, Marson Kerr Racing
Love Promise Stories from Ramsey Subaru of Des Moines
Subaru and Ramsey Subaru of Des Moines believe in making a positive impact on the communities in which we live and work. We uphold that belief through our Love Promise Community Commitment. Every month, we select inspiring stories from customers and partners from around our area who strive to support our collective commitment and feature them here
Blankets for Central Iowa Shelter & Services - Sadie N
During the winter months when the shelter is at its busiest, every bit of support makes a difference. We at CISS are incredibly grateful to Ramsey Subaru for their generous donation of cold-weather necessities. When you've been out in the cold, a donated blanket and a fresh pair of socks do more than warm you up—they let you know your community cares.
---
Ramsey Subaru Supports Fathers and Daughters - Cara I
It took one email from our PTA organization to Ramsey Subaru and Scott Long and we had their full support in contributing to our Father Daughter dance event. This event is put on in the Southeast Polk Community district by Clay Elementary. The event is attended by over 1,200 girls and their special guests. In order for this event to be successful, it takes community partners like Ramsey Subaru to make it happen. We are extremely grateful to Scott Long and Ramsey Subaru in their contribution to our raffle event.
---
Baskets for Blank fundraiser for Child Life - Callie B
We are thankful beyond words for Ramsey Subaru of Des Moines extremely generous donation to our fundraiser's silent auction. Baskets for Blank is an annual fundraiser to benefit the Child Life department at Blank Children's Hospital in Des Moines. To raise money and make this project a success we rely on the generosity of businesses and people in our community to either make a monetary donation or a donation to our silent auction and participate in our events. Ramsey Subaru has gone above and beyond the standard by donating car rentals and details to be placed up for bid at the silent auction on January 15th at Brick&Ivy. The money raised will benefit so many people at the hospital and brighten the lives of many. This project not only benefits those children and families at Blank, it also brings the community together, spreading love and kindness while helping a great cause. Thank you so much Ramsey Subaru of Des Moines!
---
WDM Valley High School Choir Sweetheart Show - Kristin C
We are extremely grateful to Ramsey Subaru of Des Moines for sponsoring our 2022 Valley High School (VHS) Vocal Music Sweetheart Show fundraiser. For the second consecutive year, Ramsey Subaru of Des Moines has gone above and beyond by sponsoring this great event that helps keep vocal music opportunities open to all talented music students, regardless of their families' financial circumstances. Please join us for Sweetheart Show 2022! WHEN: Two shows - - February 8 & 10, 2022; 7-9 pm WHERE: WDM Valley High School Performing Arts Center - AND live-streamed Our event website will be available soon with more information. In the meantime, you can email us at: vhssweetheartshow@gmail.com
---
Ballet Des Moines - Tom S
Ramsey Subaru has been so generous to Ballet Des Moines this season by allowing us the use of a Subaru Ascent for our guest artists and trainers while we hired a new Artistic Director. It saved us a fortune in rental fees. Thank you Ramsey Subaru for being a Proud Sponsor of Ballet Des Moines!
---
Sponsorship - Mason K
I reached out to Scott and the Ramsey crew about a possible sponsorship for my upcoming Supercross racing season and not only did they help me out with a sponsorship. Scott had me bring a bike in and got his whole staff together to make me really feel like a star. Couldn't ask for a better guy to be dealing with and Subaru couldn't have a better person managing their dealership. Thank you!
---
Hungry For Love - Amy H
In late July we received a plea for help from our rescue partner in McAlester, Oklahoma. A good Samaritan had brought them a completely emaciated senior Boxer that had been found wandering alone in the summer heat. This poor soul was dehydrated and starved almost to death. Her horribly worn down teeth and overgrown pads on her feet told the story of a long life spent alone in a wire kennel. So, on July 31st, we drove down to Oklahoma to pick her up. This old girl had every reason in the world to be distrusting, but instead chose to greet us with a wagging tail and a wiggle in every bone protruded from her skeletal frame. She rolled over for a belly rub even though she only had stretched skin over bone to offer. Then she stared at us with her big brown, longing eyes as if to say, "Can I please be your baby girl?" Baby Girl quickly became everyone's favorite back in Iowa. She loved being cuddled. It felt like running your hand over a washboard when petting her, but she loved every second of it. We posted her on social media and a woman who saw the post simply could not get her out of her mind. That woman applied to foster her but the connection between the two was undeniable and it quickly turned into a foster-to-adopt arrangement. With good food, clean water, proper care, and love, in just 2 months Baby Girl gained 17 pounds. On October 1st, Baby Girl got a clean bill of health from our veterinarian and her adoption was finalized. This beautiful soul is finally living the life she deserves. She is no longer hungry for anything! Thank you to Subaru for partnering with AHeinz57 Pet Rescue & Transport so we can continue to save lives like Baby Girl!
---
Food donations - Jordon E
My name is Jordon Elwell new to the Subaru family I own a food manufacturing business in Des Moines Iowa, monthly we raise donations and build inventory to send around the Des Moines metro to non-profits to homeless shelters/ camps. We are blessed to have business success and I believe in paying it forward and sharing the wealth within the community that supports us! Our Brands are Ginos Italian , Kramers salsa as well as many others and offer packaging services for non -profit and for profit adventures. We have went from 4 employees in 2016 to 28 in 2021! We thrive 10% of our net profit back into the community in many facets. When the food banks shut down last year we as a company stepped up and donated over 8,500 meal kits And helped the community with donating 150,000 last year . We are blessed and was to bless others !
---
Subaru Made AHeinz57 and Many Dogs' Day! - Sandy H
On a beautiful, sunny Saturday in October, our rescue, AHeinz57 Pet Rescue & Transport, located in DeSoto, Iowa, was invited to bring some of our adoptable animals and participate in the Subaru "Make A Dog's Day" event at Ramsey Subaru in Urbandale, Iowa. Wow did this event ever exceed our already high expectations. We were welcomed and helped with set-up and, because of social distancing needs, the dealership cleared out all but one of the vehicles in its showroom for us. We had plenty of space to spread out and showcase our animals. And, as a side note, everyone we encountered that day – Subaru employees, volunteers and customers, had on a mask! Ramsey Subaru was consistently busy throughout our stay with a steady flow of customers and we had many people stop by to inquire about our shelter's mission and, of course, pet a few dogs and snuggle some puppies. Our rescue adoption coordinator, Stacey, stopped by and held a mass adoption for an entire litter of puppies that had been selected and reserved earlier in the month. It was quite a moving scene for the Subaru staff and our own volunteers to see the joy (even through the masks) on the faces of the adopting families, especially the children. This event gave additional exposure to another litter of pups who were still available for adoption and, indeed, one lucky pup, named Two Bit, found his forever home at the Subaru event. At last report, little Two Bit is thriving in his new home. Another dog, Fancy, whom we rescued from a kill shelter in May, received interest and inquiries at the event and we are happy to report that she, too, has now found her forever home. Fancy was timid and shy when she arrived in May. She just needed patience, love and time to find the right forever family. Having public events to showcase animals of all types, such as the "Make a Dog's Day" event, goes a long way in helping those dogs who may not always stand out in the rows of kennels at a shelter. We had a special appearance by a puppy named Moxie, who was to be adopted within the next week. Moxie, weighing less than 2 pounds, arrived at AHeinz57 as a days-old pup on September 9, along with her littermates and mama. Moxie had sustained a traumatic injury to her back, left leg as it was severed and badly swollen with infection. We were concerned about whether she would survive. The pups and mama were all rescued from a kill-shelter when their "time was up". We accepted the challenge of nursing Moxie and her siblings to health and helping Moxie get the surgery she needed, heal and then learn to maneuver on just 3 legs. Moxie's adoption was finalized on October 31 and she is thriving in her forever home. A number of people were curious about the little 3-legged puppy and we were proud to be able to explain that we frequently take on more challenging animals and do our best to give animals a second chance at a loving, forever home. It appeared the staff at Ramsey may have been surprised to learn that a number of AHeinz57 volunteers drive Subarus. One long-time volunteer drove her 22-year-old Subaru with only 88,000 miles to the event. She promised she'd be back in the spring to trade as she believed, after seeing all of the beautiful new Subarus at Ramsey, it was probably time to trade up! Our day went by quickly. We were thrilled to learn at the end of the day that Ramsey Subaru employees had contributed donations for our rescue. They were kind to help us load the items into a volunteer's car for transport back to the rescue. We were also thrilled to be selected to be the recipient of $100 for every animal adopted during the month of October (maximum of $3,100), generously funded by Corporate Subaru and Ramsey Subaru in Urbandale. To accomplish this goal, we'd need to get 31 dogs and cats adopted in October. Our results were outstanding with a total of 86 dogs and puppies and 50 cats and kittens adopted during the month for a total of 136 animals being placed in forever homes. It needs mentioning that COVID-19 has placed challenges on everyone. It was evident that Ramsey is taking extra safety precautions and so is AHeinz57. It was much appreciated that Ramsey Subaru allowed a previously planned event to take place as planned and they took all of the necessary precautions to ensure that it was done safely, with lots of room to spread out and by setting an example with all Subaru staff wearing masks. The demand for companion animals has never been higher. With many families working and learning from home, animals provide companionship and love. Now is a great time to adopt and welcome an orphaned pet into the home. AHeinz57 is grateful to Subaru for its ongoing support of animals. With the financial support they provide, the visibility they convey and leading by example, they make it possible for more animals to be placed in loving, forever homes.
---